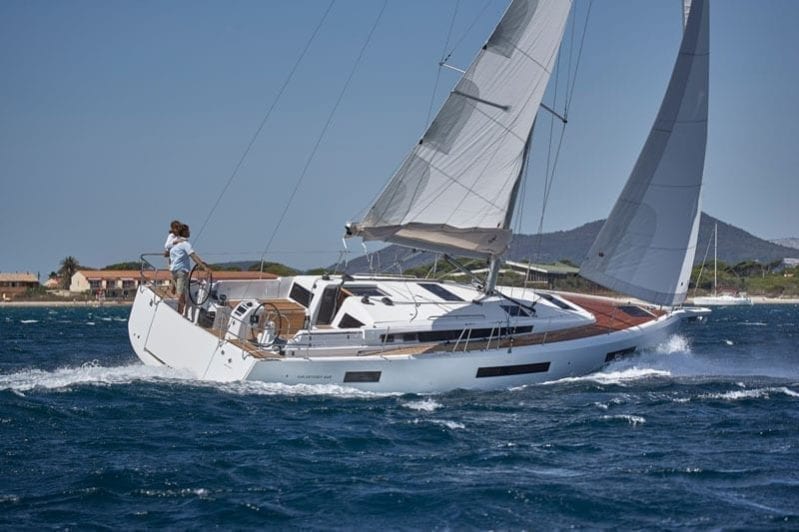 The Pleasures of Exhilarating Sailing and Relaxed Liveability
The Sun Odyssey 41DS features the same Philippe Briand hull design as the award-wining Sun Odyssey 409, and she can be fitted with a variety of different sail plans to suit your unique sailing needs and preferences. Whether cruising, living aboard, or entertaining friends, you will find functional and aesthetic design in every detail.
An innovative galley incorporates space for everything you might need, a lounging sofa transforms into a berth, and a telescopic table converts the saloon into a multi-use space for dining, lounging or sleeping. Large deckhouse windows, numerous hull ports, and no fewer than 10 opening ports and hatches accent the spacious interior. A signature of the design team of Franck Darnet and Olivier Flahault, every interior space features a view of the sea.
Specifications
Designer: Philippe Briand – Piaton Bonet Yacht Design – Jeanneau Design
CE Category: A10 / B11 / C14
Overall Length:  42′ 7″
Hull Length: 41′ 5″
Waterline Length: 39′ 4″
Beam: 14′
Standard Draft: 7′ 2″
Shallow Draft: 5′ 2″
Total Sail Area – Standard: 972 sq. ft.
Total Sail Area – Performance: 1,058 sq. ft.
Mainsail: (Stnd) 486 sq. ft.; (Perf) 530 sg. ft.
Genoa: 110% (Stnd) 486 sq. ft.; (Perf) 530 sq. ft.
Hull Material: Fiberglass
Cabins: 2 / 3 / 4
Berths: 4 / 6 / 8+2
Water Capacity: 87 U.S. Gal.
Fuel Capacity: 53 U.S. Gal.
Holding Tank Capacity: 13 U.S. Gal. / Head
Standard Keel Weight: 5,027 lbs.
Shallow Keel Weight: 5,886 lbs.
Displacement: 18,874 lbs. w/Standard Draft Keel
Engine: Yanmar 45 h.p.
Fuel: Diesel